Quality
Technicians use a state-of-the-art laser tracking system to align critical space station components for assembly in ORT-E's certified clean room.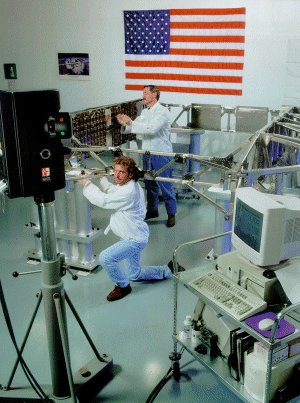 The ORT-E team continually improves its manufacturing processes and product quality and takes pride in following the latest Quality Assurance procedures for engineering, purchasing, manufacturing, inspection, and testing according to aerospace/defense, nuclear, and international codes and standards. Certified by Performance Review Institute (PRI), ORT-E believes a cost-effective approach adds value for its customers.
The Oak Ridge headquarters represents a complete high-tech operation that is ready to meet and exceed the needs of its diverse customers. ORT-E inspects, tests, and maintains equipment, in conformance with strict standards, to ensure and substantiate product conformance to drawings, specifications and contract requirements.
Compliance & Third-Party Accreditation
ORT-E's Quality Management System is in compliance with and/or third-party accredited to the following standards and codes:
Codes and Standards Status
Mil-I-45208 - Compliant
NQA-1:2008 - Compliant
ISO 9001:2015 - Third Party Certified
AS9100D - Third Party Certified
Nadcap Welding - Third Party Certified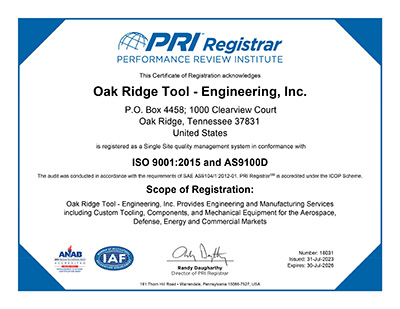 Nadcap Welding Certificate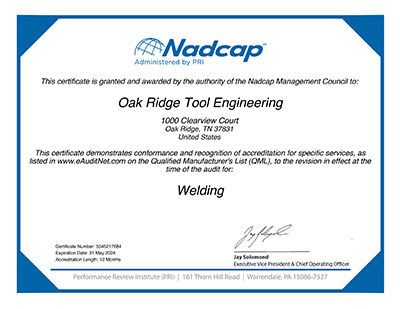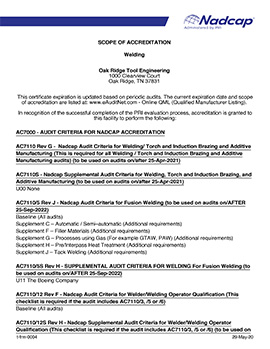 Nadcap Scope
Click Certificates to Enlarge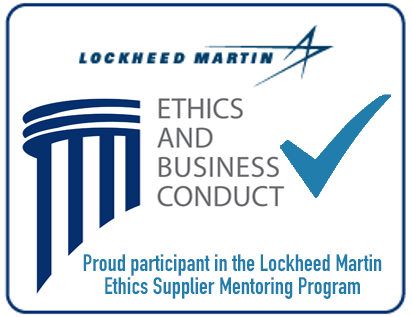 Purchase Order General Terms and Conditions (PDF)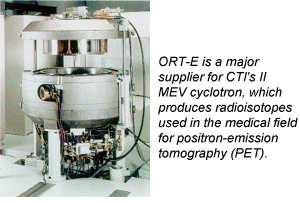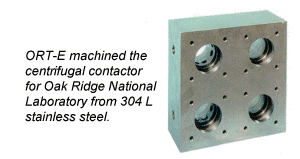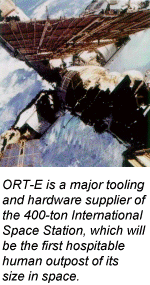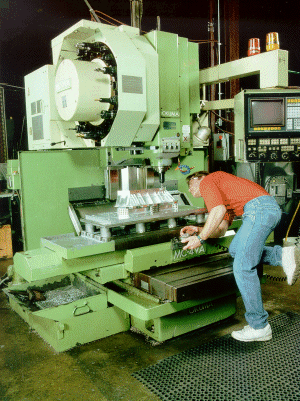 ORT-E's modern, multi-axis CNC machines allow the company's highly trained professionals to perform tasks once thought to be impossible.
Precision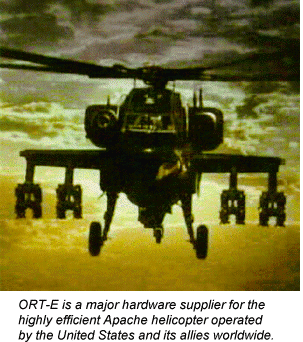 Whether producing farm implements for John Deere or crafting highly sophisticated hardware for Boeing's International Space Station, ORT-E has consistently proven to be the national and international industry leader when quality, precision, quick turnaround, and competitive pricing are required.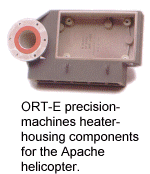 ORT-E stands alone at the highest level of precision tooling, machining, fabrication, and engineering. No other company can match its record of international achievement, high-tech capabilities, superior quality, or its concept-to-completion approach. When your needs require the best, contact the team at Oak Ridge Tool-Engineering – setting the standard for excellence.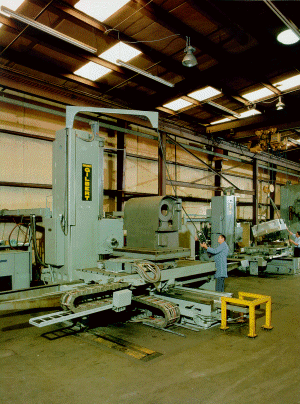 ORT-E's 120 inch Cincinnati Gilbert with 1997 4-axis Fagor CNC Control, one of the company's large-capacity multi-axis CNC boring mills, represents the wide range of capabilities crucial to ORT-E's continued success in the world marketplace.
Excellence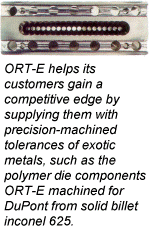 If the project meets the standards of excellence set by ORT-E, you can be assured it is the best in the business. Using the ISO 9001:2015 standard, ORT-E takes a systematic approach to managing its organizational processes to consistently turn out products that satisfy customers' expectations.

ORT-E is recognized as an invaluable partner to the aerospace and defense industries, providing extensive technical expertise to its customers.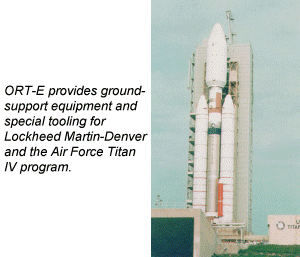 The company's many notable achievements include:
• Building and delivering the highly complex support structure for the Boeing International Space Station in less than one year
• Machining the Target Acquisition Designated Sight assembly (TADS) for the U.S. Army's Apache Helicopter
• Recognition as one of the largest suppliers of uranium enrichment to the U.S. government

• Building a variety of sophisticated aerospace products for the Space Shuttle, Skylab, the Saturn and Titan rocket programs, and the Marshall Space Flight Center in Huntsville, Alabama
• Manufacturing the target module for the Spallation Neutron Source (SNS) and numerous instruments used for scientific research
• Manufacturing the Cold-Neutron, Triple-Axis Spectrometer, and Monochromator shield for the High Flux Isotope Reactor (HFIR)
ORT-E's client list reads like a who's who of American and international industries.
Aero-Tech Tooling Services, Inc
Honeywell
Alliant Techsystems, Inc
Isotek Systems, LLC
Allied Signal Corporation
Jacobs Engineering
Aqua Chem
Kaman Precision Products, Inc.
Babcock and Wilcox
L3 Communications
Bechtel National
LCF Systems, Inc.
Boeing Space and Defense
Lockheed Martin
BWXT Y-12
Meco Corporation
City of Oak Ridge
National Aeronautics and Space Administration (NASA)
Combined Technologies, Inc.
Northrop-Grumman Corp.
Corrugating Roll Corporation
NSS-Space Team
Cryomagnetics, Inc.
Oak Ridge National Laboratory (ORNL)
CTI-Siemens
Pratt & Whitney
Defense Supply Center
Sikorsky Aircraft
DSCI
Tennessee Valley Authority (TVA)
EnergX
TRW Automotive, Inc.
Energy Solutions
United States Air Force (USAF)
Fluor-Daniel
United States Army Missile Command
General Dynamics
United States Enrichment Corporation
General Electric (GE)
United Technologies
Goodrich
Westinghouse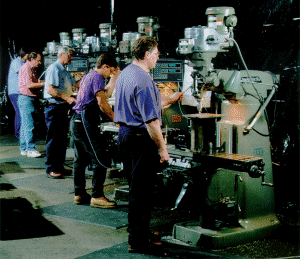 Many of ORT-E's customers demand prototype-machining and R & D.